After the round the island race on Friday, Hayling Island will then host the first slalom event of the season over the weekend. Check out the must know info from the UKWA below and head to their website here for more details. 
Venue
The Hayling Seafront is primarily a shingle beach above the high tide mark, with long stretches of sand below this line. About a third of the beach is protected by groynes. West Beach is Haylings most popular beach, and designated a windsurfing area. At high tide the waters can get deep quickly with the shelving of the beaches, at low tide the waters are usually shallow.
Directions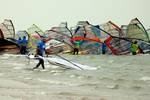 From the A27, take the Havant/Hayling exit.
Head south on the A3023 on to Hayling island.
At Mill Rythe roundabout (approx 2 miles from bridge ) take right exit.
At Beachlands roundabout (approx 1 mile) take right exit After approx 1/2 mile, left just west of the bottom of Staunton Avenue.
Parking / Camping
This is a Pay and Display parking area.
Please note:
"Overnight parking is not officially permitted by Havant Borough Council so our advice, as with the National Windsurfing Festival, is to use your own discretion and common sense. Considerate parking and behaviour hasn't attracted attention here before."
Hayling Island Tourism tel: 023 9246 7111; or go to havant.gov.uk For campers you can try 'The Oven', Manor Road tel 023 9246 4695. Another useful site is haylingisland.net.
Facilities
The action takes place from the 'INN on the BEACH' where the race office will be based. Many thanks to our hosts at the INN! This building is right on the waters edge with a large deck for spectators to watch the racing; also bars and conservatory upstairs, with fantastic views of the Solent.
Tourist Information / Accommodation
Hayling Island Tourism tel: 023 9246 7111 ; or go to havant.gov.uk For campers you can try 'The Oven' ,Manor Road tel 023 9246 4695. See also theresort guide, tourist information, and haylingisland.net